THE MAN YOU WANT TO BE
A focused weekend intensive for driven men seeking growth in
RELATIONSHIPS LEADERSHIP &PURPOSE
London—May 19 – 21 2023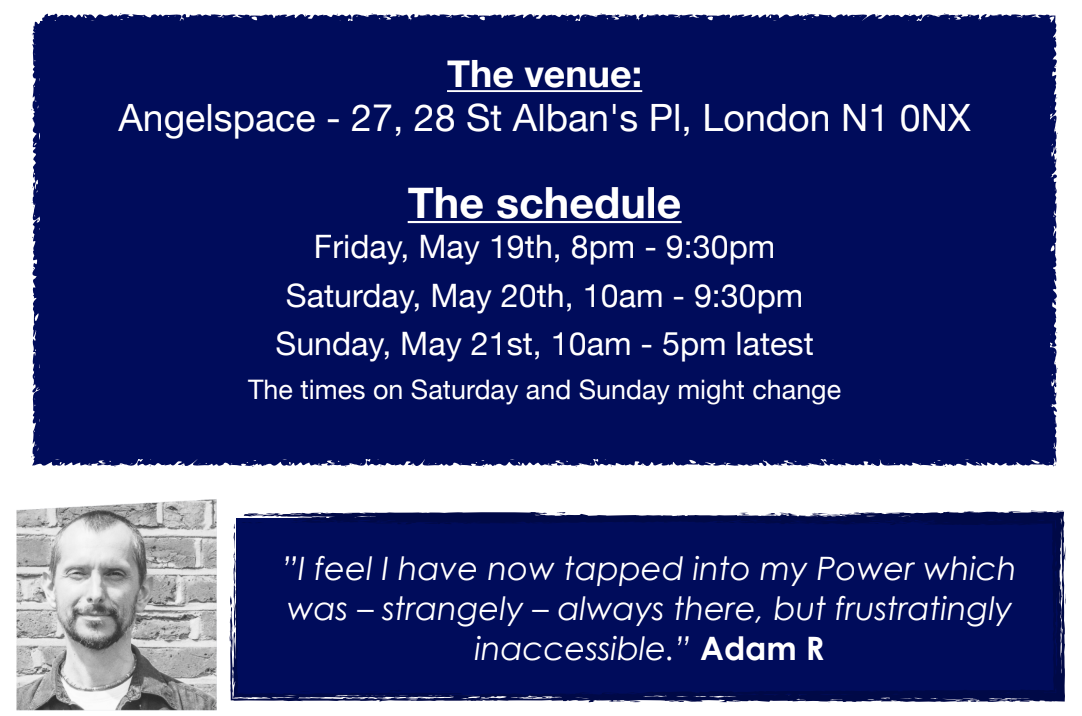 Join a select group of ambitious men in a supportive, non-judgmental environment that fosters vulnerability, authenticity and courage. Connect deeply with yourself and others, as we engage in transformative exercises designed to challenge your beliefs and establish positive habits towards meaningful success.
'I feel I have now tapped into my Power which was strangely always there, but frustratingly inaccessible. I feel a new door has opened up for me, and this is just the beginning of my new journey!'
Adam Reparszky
Overcome Whatever is Holding You Back And Walk The Path Towards Becoming
THE MAN YOU WANT TO BE
Are you experiencing any of the following?
Do you struggle with low self-esteem or struggle to find meaning in your life?
Do you have an underlying feeling of not being good enough or sometimes even unlovable?
Perhaps you're disconnected from yourself or your partner and want to be more true to yourself and in your relationships, but it's not easy.
Are you seeking accountability and support to help you navigate complex life transitions?
If you can relate to any of this, the weekend is for you.
Here's why and what you will experience:
A safe space to share your struggles, explore emotions, and develop genuine connections to boost your confidence.
Breakthroughs in limiting beliefs, enabling you to create meaningful connections and embrace love.
Clarity on your life purpose through self-exploration and reflective exercises.
Accountability and support from a close-knit group of driven men who will challenge and encourage you to reach your goals.
"This work has given me access to knowledge and tools that have improved my life dramatically, challenging me to step up
and face it with full presence. I feel stronger, clearer, more committed and more honest."
Vince L

How the weekend works
Unlike other events that charge thousands of pounds for short-term motivation, this weekend is packed with ›
Guided by the CROP® Cycle framework, our groups work together seamlessly while allowing each individual to choose the pace and level of intensity that suits him best on his unique aspirations in Leadership, Purpose, and Relationships. This way we ensure that everyone gets the most out of the weekend.
To kickstart your transformation, you'll receive a series of questions to help you set your intentions and get clear on what you want to achieve on the weekend. The activities outlined in the schedule below will then guide you toward reaching those outcomes.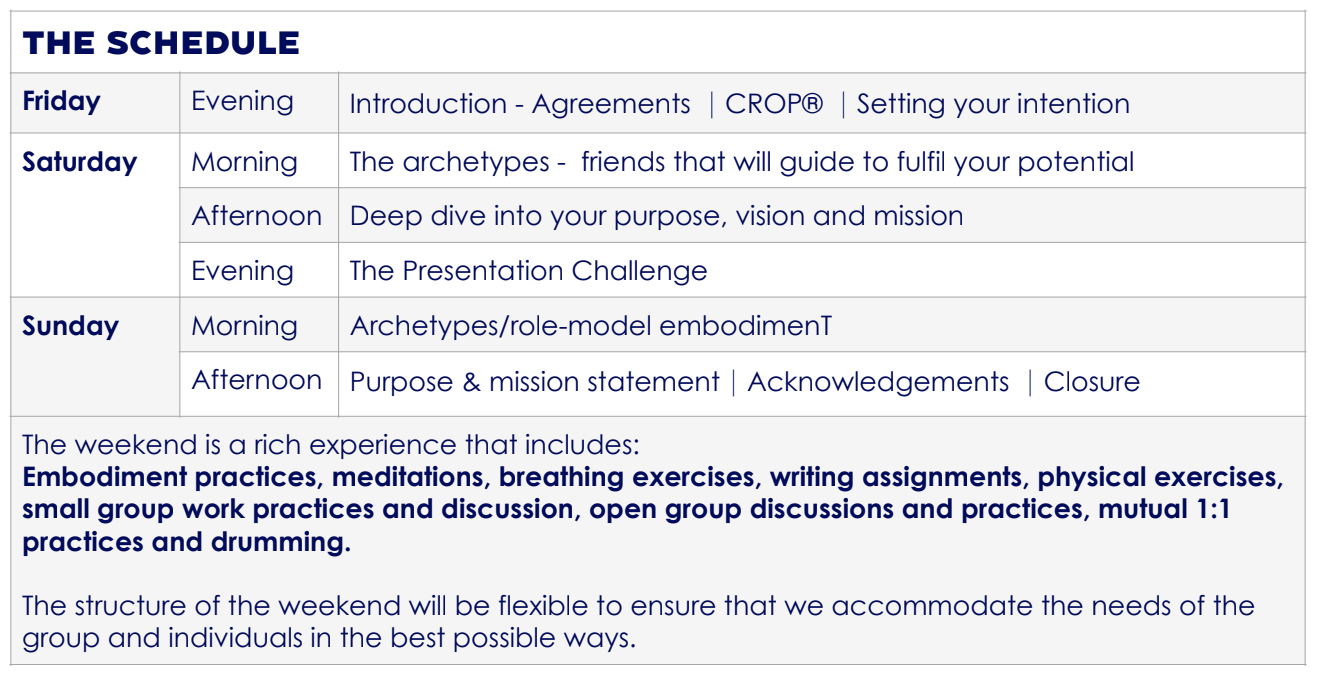 How the weekend works
Hey, Yaron here.
I wanted to say a quick hello and set the ground so that you know what to expect from our transformative weekend together.
I've been on this self-discovery journey for over 25 years and am truly passionate about building secure, inspiring, and empowering spaces for men who, like you, are committed to personal growth.
I spent years searching for the perfect community that could help me become the best version of myself (cliché I know, but a true one). The problem was that none of the communities I tried was a good fit. Some were too woo-woo, others too macho, some just didn't focus on personal development, and with some I just didn't trust the offer or the facilitator. So, I took matters into my own hands and crafted the community I'd been seeking, and over the past four years, our thriving group of amazing men has been a continuous source of inspiration.
This upcoming weekend is your opportunity to experience the magic of our community and see if it's the right fit for your personal growth journey. We intentionally keep our group small so that everyone is genuinely heard and seen, allowing us to create deep connections while exploring our shared goals. If this sounds like what you've been searching for, I'd say grab your spot now!
If you've got any questions or need more info about the weekend or our community, just drop me an email or schedule a quick call. I'm here to help you gain the clarity you need. You can book a time that suits you here.
If you've got any questions about the weekend or the community feel free to send an email or we can jump on a quick call and help you get the clarity you need. You can book a convenient time here.
Want to join one of our free sessions? Book you place here. Want to know more about me? Check out my full bio here. Curious about the CROP® cycle? Find all the details here.
Looking forward to connecting with you!
Warmly,
Yaron
""Yaron gets deep into the core of a situation instead of being fluffy around the issue. He comes with brutal love in an honest and caring way that leaves me focused without feeling stranded. His vulnerable side comes across and gives me and other men in a group space to also be that vulnerable.-"
Freddie O.A.

All you need to know
The venue:
Angelspace – 27, 28 St Alban's Pl, London N1 0NX
The schedule Friday, May 19th, 8pm – 9:30pm Saturday, May 20th, 10am – 9:30pm Sunday, May 21st, 10am – 5pm latest ***The times on Saturday and Sunday might change
What to bring with you • A bottle of water • A pen and a notebook • Comfortable clothes – we are going to move and even sweat • A small item that has meaning to you.
Price: £400
Guarantee: If you don't experience a positive difference in the weekend send us an email within 3 days with your feedback and you'll receive a full refund.
Free taster session booking April 18th and 24th. To book your place click here.
Get in touch For questions about the weekend or the community send an email or book a convenient time here and let's have a quick chat.
"I realised how important it is to have a close circle that holds me accountable for my actions and is there to listen if I need it
(even if I don't know that I need it). I had the chance to dig deep into the psyche of incredible men, helping me to rebuild the foundations of my own authenticity."
Andreas K
In times of many unknowns, the best thing to do is to invest in yourself. That's what this weekend is all about.